Initially held every two years, the Paris Air Show has not taken place since 2019, due to the pandemic. Thus anticipation in the aerospace industry was high when the Paris Air Show opened its doors on Monday 19 June 2023.
Gazechim Group's Composites Unit has historically shared space with our partner Hexcel, where 45 m2 are focused on the aeronautics division, with representatives from several subsidiaries, including Composites Distribution, Imatec and Hexcut Services.
Over four days, visitors flocked to the stand to talk to our representatives and get a closer look at our two showpieces:
A fan for the Guimbal Cabri G2 helicopter (two-seater helicopter built with composite materials and a 145 hp piston engine). Airbus Helicopters based the drone manufactured for Naval Group and the French Navy on this helicopter because of its performance and reliability.
A propeller from Duc Hélices, a French company that specialises in designing and manufacturing carbon composite aeronautical propellers and rotors for light aviation.
These four days also included demonstrations of more than 20 aircraft in flight: the long-haul Airbus A321XLR, the Apache and Chinook helicopters, the B1B bomber, the F15 fighter and the eagerly awaited Rafale. Some newcomers also made their appearance: the eVTOL VC200 from Volocopter, an electric flying taxi, and the Cassio 1 from VoltAero, a hybrid aircraft.
Immerse yourself in an extraordinary show through these images: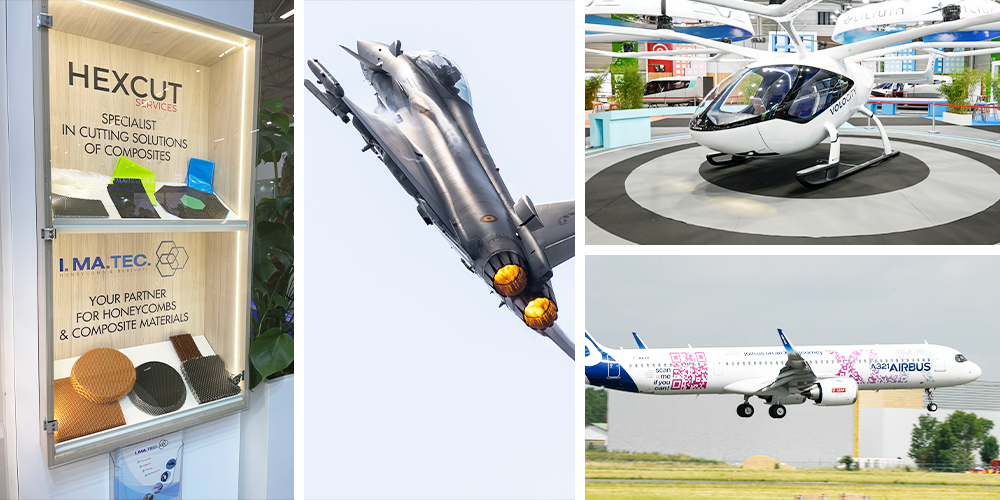 Le RAFALE © SIAE 2023 Anthony Guerra / L'eVTOL Volocity de Volocopter © SIAE 2023 Gilles Rolle / AIRBUS A321XLR © SIAE 2023 Gilles Rolle