Few days ago, Polynt-Reichhold has appointed Gazechim Composites as their official distributor for Sweden, Norway and Denmark of their whole range of unsaturated polyester products including the POLYLITE Polyester Resins, the DION Vinyl Ester Resins, the NORPOL Gelcoats and Bonding Pastes.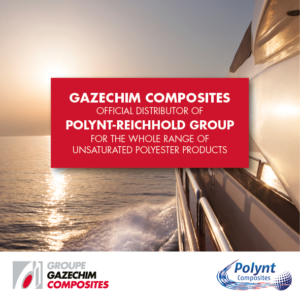 The availability of the Reichhold product ranges and individual products will continue as today and Gazechim will start to sell this range from mid-December 2018.
Gazechim will operate the Polycolor Tinting machines in both Sweden and Norway, ensuring a fast, reliable delivery of all the Reichhold gelcoat colours in smaller or larger quantities, from the Gazechim stock locations in Sweden, Norway and Denmark.
Gazechim are the distributor of the Nouryon range (formerly Akzo) of organic peroxides (Butanox, Triganox, Perkadox) and have available all the organic peroxides needed for the Reichhold product range.
"I am delighted with this agreement with the Polynt-Reichhold Group, which strengthens our European partnership and opens up new opportunities." said Jean-Marc Libes, Business Manager.
About Group Gazechim Composites 
Group Gazechim is a leading distributor of composite raw materials throughout Europe. The Group distributes, from more than 20 countries, the full range of advanced and commodity composite materials from first class partners and producers. It also offers supply chain solutions, technical support as well as other services such as tailor-made gel coats, honeycombs and kit-cutting capabilities.
About Polynt-Reichhold Group
The Polynt-Reichhold Group, established through the merger of Polynt Composites and Reichhold, is a global leader in thermosetting resins used for coatings, composites and gel coats. The Polynt-Reichhold Group has a presence on five continents and has specialized global research centers around the globe.
Click here to download the press release