French company Advanced Aerodynamic Vessels (A2V) designed a prototype for a new generation boat in 2015.

Twice as fast for half the consumption: its design generates aerodynamic lift that offers high speed and low consumption.

The boat uses the strength of the wind to work, propelling it at high speed, and thus lifting it above the water and reducing fuel consumption. "The central part of the boat is relieved, being in the shape of a wing, into which the wind is funnelled. With a small draught, it will have little drag and therefore only slight aerodynamic braking. Water tends to slow boats down. Here, air is used to carry the boat. It will therefore be half as heavy and consume less fuel" according to the A2V team.

 





A real accomplishment and a minor revolution in the nautical world. The results of the research carried out by A2V have earned them the innovation prize awarded by the French ministry of research.
Gazechim companies provided the composites raw materials required to build this innovative project.
Materials used:
Corecell foam
Hexcel fabrics
Saertex fabrics
UP resin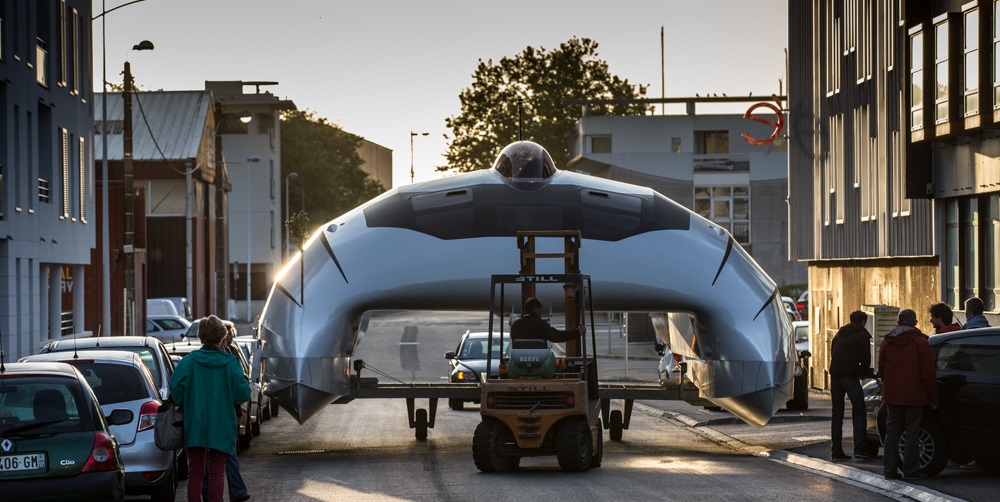 Technical characteristics of the boat:
| | |
| --- | --- |
| Waterline length  | 9m |
| Total length  | 10.5 m |
| Width | 7.4 m |
| Draught when loaded  | 0.4 m |
| Air draught | 3.4 m |
| Motorisation | Two 200cv Mercury Verado engines |
| Light displacement  | 3 t |
| Loaded displacement  | 4.5 t |
| Useful load and ballast  | 1.500kg |
| Number of passengers  | 6 |
| Capacity of fuel tanks   | Two 140l tanks |

To find out more: