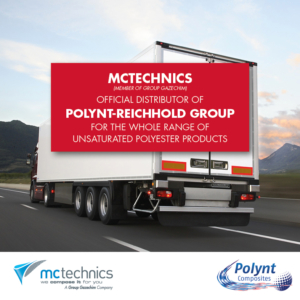 Gazechim Composite is pleased to announce the appointment of MCTechnics (member of Groupe Gazechim) by Polynt as the distributor for Benelux starting from September 1st 2019.
MCtechnics will take over the distribution of their entire Polynt-Reichhold range of unsaturated polyester products including the POLYLITE Polyester Resins, the DION Vinyl Ester Resins, the NORPOL Gelcoats and Bonding Pastes.
Click here to read the press release.