For many years, Gazechim Group has been a benafactor of ICM, the Montpellier Cancer Institute. It is one of the 20 Cancer Control Centers (CLCC) which formed the UNICANCER Federation.
Establishment of Private Health of Collective Interest (ESPIC), realizing a public hospital service and recognized of public utility, the ICM is the center of reference at the regional level in cancer research and the care of cancer patients. The patients treated at the ICM are from Montpellier and more generally from Languedoc-Roussillon / Midi Pyrénées (Aude, Gard, Hérault, Lozère, Pyrénées-Orientales). Its Board of Directors chaired by the Prefect of Hérault, Mr. Pierre Pouessel. Its Director General, Professor Marc Ychou, is a doctor appointed by the Minister of Health.
As a sponsor, we had very good news from ICM: a young ICM researcher, who funded his research with part of our donations, has just published his research results for avoid recurrence of lung cancer … leading to new hope!
Antonio Maraver, researcher at the Montpellier Cancer Research Institute – Inserm U1194 – set up a team "Oncogenic pathways in lung cancer" 3 years ago to finance his project on the recurrence of lung cancers.
Lung cancer is responsible for around one million deaths a year worldwide, caused by genetic mutations. This is particularly the case for the mutation of the "EGFR" gene, for which recurrence after treatment is very frequent.
With his team, they have just demonstrated in a preclinical study, that the combination of treatments with "tyrosine kinase" inhibitors and the "Notch signaling pathway" makes it possible to re-sensitize tumor cells to treatment… And therefore to avoid recidivism with often dramatic consequences.
The discovery, which has just appeared in the prestigious international scientific journal Journal of Clinical Investigation, now paves the way for a phase I clinical trial at the ICM.
The Gazechim Group is proud to have contributed to this research and will continue to support the ICM in its research that gives hope to all of us!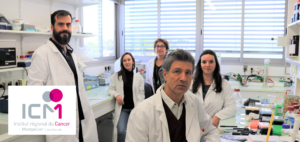 Antonio Maraver and his team